On the 2nd and 3rd of October RIC Novo mesto e-RR project team participated in a conference Empowering marginalized groups through education and training in Danube region in Wiena. The conference was organized by Austrian agency for international mobility and cooperation in education science and research – Department National Agency of Lifelong Learning and the Austrian Ministry of Education and Women's Affairs. Emphasis of the conference was on the integration of socially disadvantages pupils – particularly Roma Children's access to education in the Danube Region Countries. The main aim of the conference were discussion, awareness raising and networks formation.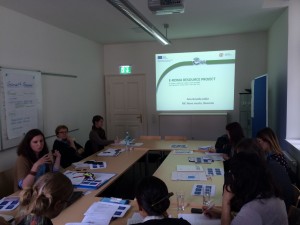 Half of the conference was held in four parallel workshops, where best-practice multilateral Roma project were presented. RIC Novo mesto presented e-Roma Resource project at the workshop Awareness rising and networks focusing on Roma.  Beside the main information about the project we also presented the proposal of the designed e-RR portal for the first time. We've received very positive responses from participants and good recommendations and comments of experts, who are potential users of the portal. All this gave us further encouragement for our work on the project.
The conference was good opportunity to present the e-RR portal and invite potential users of the portal, to use the e-RR portal as dissemination tool for their projects and project results.