RIC Novo mesto is engaged in activities for better Roma inclusion for many years. We are working closely with a variety of experts, organizations and the municipalities in region. Moreover, the Roma from the local environment are not included in our activities as participants but also s our colleges, co-workers and partners.  Because of the importance of cross-sectorial and regional cooperation in field of Roma integration on the 16th of April RIC Novo mesto hosted  experts from municipalities, schools, labour offices, prisons, social work centres, libraries, NGOs, adult education organisation, invitation also representative of the Roma community.
We've carried out the event by the method of world cafe. In the beginning project coordinators presented  four RIC Novo mesto's current projects, two Grundtvig Multilateral project, FINALLY – Financial literacy for Roma and e-RR (e-Roma Resource) and Daphne, Early marriage – culture or abuse and the project of the Norwegian Financial Mechanism SORO (Cooperation for the health of the Roma).  In addition of the world cafe event all the participants searched and discussed opportunities for concrete cooperation and activities that will increase and influence processes of integration of Roma population.
The event was very valuable contribution to e-RR project. We had opportunity to present the e-RR platform and demonstrated the applicability of the platform in their daily work. As feedback information they provided us concrete needs of their organisation. By the end of our creative debates with beneficiaries we outlined and determined some concrete exploitation activities.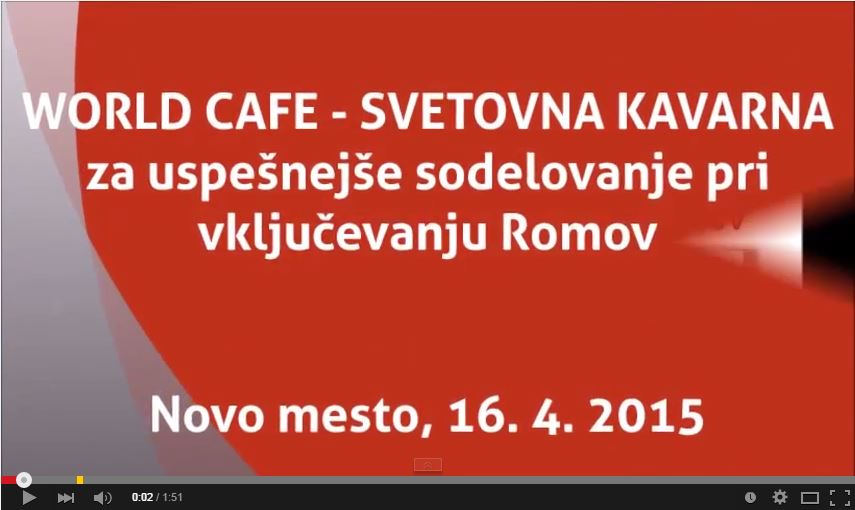 World cafe for successful cooperation in the field of Roma inclusion